Cinnamon Roll Cookie Brownie
This sweet dessert combines cinnamon rolls, brownies, and cookies. What more could you need?
All Recipes
All of your favorite sweet treats in one indulgent dessert.
Prep time 5 minutes
Cook time 1 hour
Servings 12
Difficulty Easy
Category Dessert
INGREDIENTS
16 Pack BonBites
1 box brownie mix
16 oz. Chocolate Chip Cookie Dough
Your favorite toppings
INSTRUCTIONS
Flatten cookie dough into bottom of greased pan.
Place 16 BonBites frosting side down onto cookie dough. Flatten BonBites.
Mix brownie mix according to directions on box. Pour onto BonBites.
Bake at 350 degrees for 60 minutes.
Step by Step Details: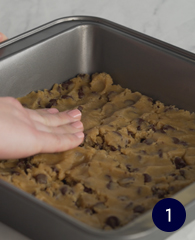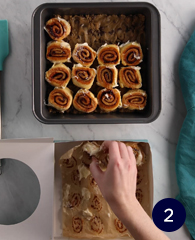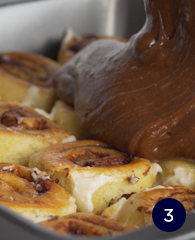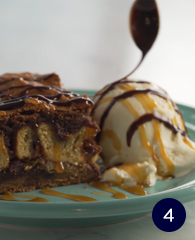 Preheat oven to 350°F. Grease a 9x9 glass, metal, or aluminum pan. Press 16oz of chocolate chip cookie dough into the bottom of the pan, pressing and spreading with your hands or a rubber spatula.

Place BonBites 4x4 on top of the cookie dough, frosting side down. Place a layer of plastic wrap on top of rolls and attempt to flatten BonBites.

Mix brownie mix according to directions on the box. Pour brownie mix on top of BonBites and cookie dough.
Place dish into oven and bake for 60 minutes. Top with ice cream, chocolate syrup, and any other of your favorite toppings.
Chef's Notes:
Here are some tips to help you bake this over the top Cinnabon Cinnamon Roll Cookie Brownie:
Use your favorite cookie dough and brownie mix for this recipe. Any kind will work!
If you have leftovers, wrap in plastic wrap or place individual servings in sandwich bags and hold ambient for up to three days.
In step 2, it is important to place the BonBites frosting side down, with the bottom of the BonBites on top. This is so that when you flatten the BonBites in step 3, you are not wiping off any of the frosting.
The reason for flattening the BonBites in step 2 is so that the brownie mix does not overflow over the sides of the baking dish.