Cinnabon Yogurt Popsicles
Get ready for springtime with this easy fruit filled yogurt popsicle.
All Recipes
3 ingredients is all it takes to create these delicious and colorful Cinnabon Yogurt Popsicles.
Prep time 10 minutes
Cook time N/A
Servings 8
Difficulty Normal
Category Snacks
INSTRUCTIONS
Mix yogurt with vanilla extract.
Pour yogurt into yogurt molds.
Thinly slice fruit and place along inside of popsicle molds.
Freeze overnight. Remove popsicle from mold once frozen.
Step by Step Details: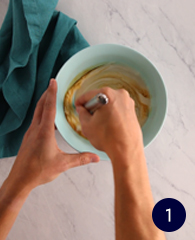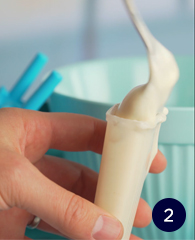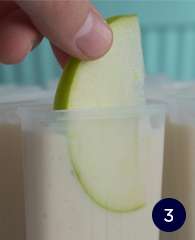 Pour 1 teaspoon vanilla extract into yogurt container and mix until incorporated.

Using a kitchen spoon, scoop yogurt and vanilla mixture into popsicle molds. Be sure to fill the mold all the way to the edge.

Slice your favorite seasonal fruit into thin slices. Place fruit slices along the inside of the popsicle mold. Be sure that the popsicle mold is filled with yogurt all the way to the top.
Freeze overnight popsicles over night. On the following day, remove the popsicle from the mold by carefully pulling on the popsicle handle.
Chef's Notes:
Here are a few tips to consider when making your Cinnabon Yogurt Popsicles:
When slicing fruit to add to the popsicle, the thinner the slices, the better.
Popsicle filling suggestions: strawberry, kiwi, banana, granola, blueberries.
If adding granola, add to the bottom of the popsicle mold so that it does not get soggy.
If having trouble removing the frozen popsicle from the mold, fill a bowl with warm (not hot) water and submerge the top of the mold into the water to help loosen the yogurt.
You can keep frozen in the freezer for a month.
International Delight® is a registered trademark of ©WhiteWave Foods. All rights reserved. Used with permission.