All Recipes
You are less than 10 minutes away from a deliciously sweet treat.
Prep time 2 minutes
Cook time 8 minutes
Servings 4
Difficulty Easy
Category Dessert
INGREDIENTS
Chopped Pecans (optional)
Favorite seasonal fruit
Favorite ice cream
Pillsbury™ Cinnamon Roll Toaster Strudel™
with Cinnabon Cinnamon
INSTRUCTIONS
Preheat oven to 325°F. Cut four Toaster Strudels into 1 inch square pieces.
Place pieces into dish and bake 6-8 minutes.
Remove from oven and top with icing in icing packets.
Step by Step Directions: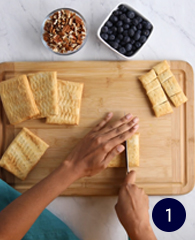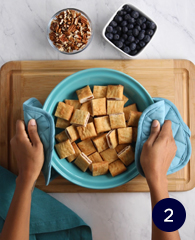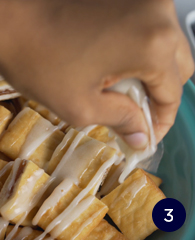 Preheat oven to 325°F. Remove 4 Toaster Strudels from the package and place on cutting board. Cut into square pieces, either 1 cut x 2 cuts or 3 cuts x 4 cuts.

Place Strudel pieces into skillet or pie dish and bake for 6-8 minutes, or until toaster strudel pieces are golden brown.

Remove from the oven and top with icing packets provided. Top with your favorite seasonal fruit and chopped pecans (roughly 3/4 cup of each), alongside a scoop of your favorite ice cream.
Chef's Notes:
Here are a few tips to consider when making your Cinnabon Strudel Bake:
This easy recipe can be baked in a pie dish, glass dish, or skillet.
Make it a tasty breakfast dish by including seasonal fruit, including blueberries, strawberries, or raspberries.
Pillsbury® is a registered trademark of ©General Mills. All rights reserved. Used with permission.