Cinnabon No Bake Cheesecake
This cheesecake recipe is sure to be a crowd favorite
All Recipes
Easy, No Bake Cheesecake recipe to make and share with your friends and family... or keep for yourself
Prep time 25 minutes
Cook time N/A
Servings 8
Difficulty Normal
Category Dessert
INGREDIENTS
1 cup melted butter

5 1/2 cups Kellogg's® Cinnabon® Cereal

32 oz. cream cheese, softened (4 packages)
2 cups powdered sugar
1 cup sour cream
2 teaspoons granulated sugar
2 teaspoons vanilla extract
INSTRUCTIONS
Place 5 cups cereal into food processor and pulse until fine. Pour cereal crumb into large bowl.
Add melted butter and granulated sugar to the cereal crumb mixture, mixing until incorporated. Pour mixture into pie pan and press along bottom and sides to form crust. Cover and freeze for 15 minutes, or until firm.
In large bowl, mix cream cheese, vanilla extract, powdered sugar, sour cream, and creamer.
Pour cream cheese mixture over crumbs and smooth. Cover and return to refrigerator for 1 hour, or until set. Remove from refrigerator and top with remaining cereal and other toppings.
Step by Step Details: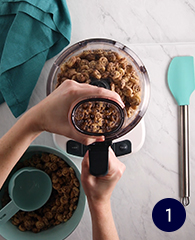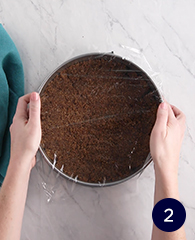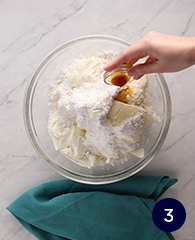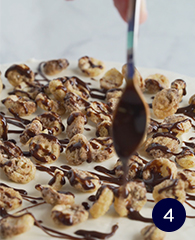 Measure 5 ½ cups of Cinnabon cereal, which is roughly half of the cereal in the box. Place 5 cups in food processor and pulse until very fine. Pour finely chopped cereal into a large mixing bowl.

Pour in 1 cup melted butter and 2 teaspoons granulated sugar to the bowl of cereal crumbs. Using a rubber spatula, mix butter, sugar, and cereal crumbs together until completely mixed. Pour the butter, sugar, cereal crumb mixture into a pie pan (spring form pan is recommended) and using either rubber spatula or clean hands, press cereal crumb picture into a tightly packed layer on bottom of pan and lower half of sides of pan. Cover the pie pan with plastic wrap and freeze until firm, roughly 15 minutes.

Mix together (best to use a hand mixer) 32 oz cream cheese (4 packages), 2 teaspoons vanilla extract, 2 cups powdered sugar, 1 cup sour cream, and ½ cup International Delight Cinnabon Creamer in a large mixing bowl. Mix until mixture is smooth and there are no more lumps.
Remove cheesecake dish from the freezer and remove the plastic wrap. Pour the smooth cheesecake mixture on top of the Cinnabon cereal crumb crust and smooth with a rubber or offset spatula. Cover the cheesecake with plastic wrap and place in refrigerator until set, roughly one hour. Before serving, top with Kellogg Cinnabon Cereal, chocolate syrup, caramel syrup, and any of your favorite toppings.
Chef's Notes:
Here are a few tips to consider when making your No Bake Cheesecake:
Pie pan can be a springform pan, glass pie dish, or disposable pie dish.
If you don't have a food processor, pour cereal into a gallon sized bag and crush by hand or rolling pin.
When mixing the cream cheese mixture, it is best to use softened cream cheese that has been cut into smaller pieces so that it is easier to incorporate into the sugar, sour cream, and creamer. The mixture should be creamy and smooth, not chunky. A hand mixer can be used to mix these ingredients together.
This is the perfect dessert to make ahead of time as this no bake cheesecake freezes well.
International Delight® is a registered trademark of ©WhiteWave Foods. All rights reserved. Used with permission.
Kellogg's® is a registered trademark of ©Kellogg's Company. All rights reserved. Used with permission.